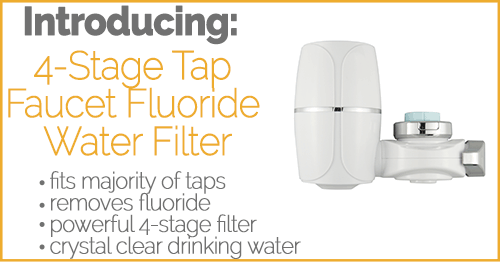 Say hello to our new and improved Tap Filter! It's the 4-Stage Tap Faucet Water Filter and it is specially designed to fit almost any type of tap. It can fit on your tap in the kitchen so that you can filter your kitchen tap water and have crystal clear, clean and healthy tap water for cooking and drinking. Or it can even fit onto your basin tap so that you can have filtered water that is gentle and nourishing on the skin as you wash your face or hands.
One of the things we get asked all the time by our customers is does your shower filter remove fluoride? As the hazards of fluoride in tap water become more and more pronounced and better understood and more customers were asking for a product that actually removed fluoride from their water. We sat down with our R&D department and decided we'd devise a new type of tap filter that would actually remove fluoride from drinking water. After a lot of research and trial and error, we came up with this brand new Fluoride Water Filter by adding a special type of filter medium which is called Activated Alumina. It's a really special type of filter medium that has been designed specifically to combat Fluoride. You can read more about it below.
The PureShowers 4-Stage Tap Faucet Water Filters fits on the majority of kitchen taps and bathroom taps thanks to the multiple adaptors that are supplied with the tap filter. With four stages of filtration it removes: Fluoride, Chlorine, Limescale, Heavy Metals, Chemicals, Pesticides, THMs, VOCs, microorganisms and hormones. Producing crystal clear drinking water and softer gentle water for hands and face.
Fits On Majority Of Taps With Threads

4 High Quality Filter Mediums Into One Unit - Developed Exclusively And To The High Standards Of Pureshowers.co.uk

Easily Switch Between Filtered And Unfiltered Water

Long Lasting Cartridges Up To 6 Months*

Removes Fluoride

Produces Alkaline Negative Ion Water

Crystal Clean Water For Drinking

More Gentle Water For Washing Face And Hands
Ceramic Filter Layer

The outer layer of the filter cartridge is made from a single shell of high grade, micro-porous ceramics. Water passes through millions of microscopic pores in the ceramic cartridge shell, each pore being less than half a micron large. Because of the small pore size impurities such as bacteria, microorganisms, sediment, etc. are trapped inside the pores of the ceramics and filtered out of your tap water.

COCONUT GRANULAR ACTIVE CARBON

GAC has been used for decades to filter drinking water. GAC works efficiently to remove impurities from water such as; chlorine, chloramines, scale, THMs, VOCs, chemicals and many other contaminants.

Activated Alumina Balls

Activated Alumina is the only water filter medium specifically developed to remove fluoride from water. This medium is recommended by the EPA (Environmental Protection Agency) as a method to remove fluoride from drinking water.

Negative Ion Tourmaline Alkaline Balls

Negative Ions are known to have amazing beneficial properties when it comes to health. As this article on WebMD shows. They can increase flow of oxygen to the brain and can make you feel instantly refreshed. Alkaline water also provides some amazing benefits to the human body as well, including anti-aging properties and the ability to hydrate skin and detoxifying properties. Our unique Negative Ion Alkaline balls produce Negative Ions and Alkaline water as water passes through them - giving you all the benefits of both of these unique health giving agents.
* Depending upon usage and quality of water in your area.