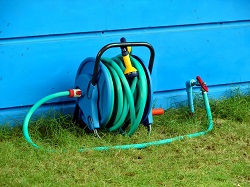 This year the summer has come thick and fast. The MET office has said that it has been the driest start to summer in modern records, which date back to 1961. The Met office have also announced that it could be the hottest summer on record. Which is great for those of us who love a hot dry summer - but from a more practical side, this could cause a lot of problems. In this article we will discuss the hose pipe ban that will come into effect on August the 5th and also explore the lengths other countries have gone to during water shortages.
One problem with very hot dry summers is lack of water and because of this impending threat of perhaps not having enough water throughout the summer, United Utilities will be imposing a hose pipe ban from the 5th of August. This water utilities company overs most of the consumers in the north-west of England which amount to about 7 million users. Though not everybody in the north-west will be subject to the ban, a small number of post codes in Cumbria will not be banned from using their hose pipes and if you are in that area you can check by using the United Utilities hose pipe ban address checker here : https://www.unitedutilities.com/address-checker/
So what exactly is a hose pipe ban, what can you not do anymore and still do? Well as the name suggests, you no longer can use your hose pipe or even your sprinkler systems. These two things use up a lot of water and can be wasteful. Instead of using your hose pipe to water the garden or wash your car, you can still use tap water to fill up a bucket or a watering can. You can use grey water (water that has been used before like dish washing water or bath water) and if you have your own supply of water such as bore water you can go ahead and still use that.
If you need more details on the hose pipe ban you can go directly to the United Utilities website here : https://www.unitedutilities.com/emergencies/hosepipe-ban-on-the-way2/
Let's hope that we get some more rain over the summer soon or else we may have to face even tougher bans on our usage of water. Below are some examples of places around the world were there have been water shortages and the remarkable length that governments and the public have gone to save water during drought conditions:
Australia - 2007
Australia went through Level 5 water restrictions in 2007 and the public were asked to reduce their showers to only 4 minutes. Water prices were also increased to make sure that people did not comply with the warnings had to pay more for their additional use.
Households that used an excessive amount of water (over the average of 800 litres a day) had to fill in a self-assessment audit showing the number of residents who lived at the property and also discussing what plans they were taking to combat water wastage and what water saving measures they were taking.
South Africa - 2018
Currently in Cape Town, South Africa they are going through their worst water shortage and drought in living history. They are going through some extremely severe restrictions to try to save water as they battle through a 3 and a half year drought. People are restricted to a daily use of 50 litres per person, to put this into perspective an average toilet flush is 13.6 litres and how many times do you go to the toilet a day? Water prices have gone up significantly to Level 6 water tariffs. Any households which use an excess of water to the average of residents in the household will be fined between R5 000 and R10 000 (so between around £300 to £600) or they may have water management devices installed in their homes.
United States - 2015
In 2015 California had been experiencing drought and lack of rain for four consecutive years. In that year they put a target for all individuals cut down on their water usage by 25% . They implemented fines of up to $200 per person for those who did not comply with cutting down water usage and conservation of water.