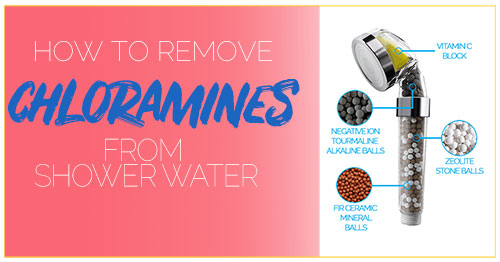 We've all heard of Chlorine and it's something we all experience on a daily basis. From the time we are pretty young we can notice chlorine in our water tap water and have become accustomed to it's smell and taste. In fact there are a load of products on the market to remove chlorine, from water filters, jug filters, tap filters and our large range of chlorine shower filters.
But have you ever heard of Chloramines? Didn't think so. That's because Chloramines are the 'next generation' of chemicals that water companies are putting into our water supplies to disinfect the water from bacteria and pathogens. A little background information first; chemical disinfectants like Chlorine and Chloramines are put in our water supplies by water companies so that as the water passes through our ancient water pipes and water supply networks as it encounters any bacteria or pathogens the Chlorine or Chloramines will kill this bacteria and make sure that when the water comes out of our taps it is free of any microorganisms which might make us sick.
The primary disinfectant that water companies used for the above purpose until recently was Chlorine, but a new type of chemical that water companies are using is something called Chloramines. The Environmental Protection Agency in the United States state that Chloramines are most commonly formed when ammonia is added to chlorine and that they are used because they provide longer-lasting disinfecting properties than just standard Chlorine. Here in the UK we have 29 water suppliers and of those around half (14 companies) use Chloramine to some extent as their water disinfectant chemical. The companies which use Chloramine are:
Anglian Water
Bournemouth and West Hampshire Water
Dee Valley Water
Dŵr Cymru Welsh Water
Essex and Suffolk Water
Independent Water
Networks
Northumbrian Water
Sutton and East Surrey Water
South East Water
Severn Trent Water
Thames Water
Veolia Water Three Valleys
Yorkshire Water
Scottish Water in Scotland, where the larger centres of population Edinburgh, Aberdeen and Inverness.
So how do we get rid of Chloramines from our shower water? Fortunately here at PureShowers.co.uk we have been looking into this problem for some years now and have come up with a solution for our many thousands of customers, the solution comes in the form of our GAC (Granular Active Carbon) shower filters and incorporating Vitamin C into our shower filters.
The most effective way of removing both Chlorine and Chloramines from shower water is with Vitamin C, numerous studies have shown that chloramines can be effectively removed with Vitamin C. Therefore we have incorporated Vitamin C as a filter medium into our Vitamin C Ionic Hand Held Shower Filter and is also included Vitamin C shower filter balls in our Compact Shower Filter and the Slim Line Shower Filter. Many of our other shower filters also incorporate GAC, which is another filter medium which is known to remove Chloramines.
All of the below shower filters will work really well for you when you're looking to remove Chloramines from your shower water with a Chloramine Shower Filter: