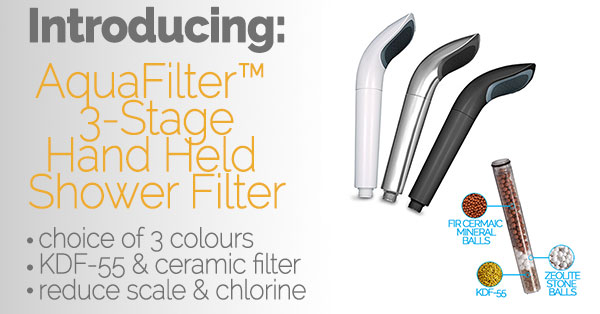 Here at PureShowers.co.uk we've been very busy continuing with our mission of trying to introduce innovative shower filter products to the UK. We keep on trying to keep the general population of the United Kingdom healthy by removing chemicals, scale, heavy metals, bacteria and other contaminants from our shower water by coming up with innovations in shower filter products and bringing new shower filters directly from the laboratories of our manufacturers to everyone in the UK.
In that vein, we have another huge announcement to make. We are the first shower filter company in the UK to bring to you the latest and most advanced shower filter model from one of the premier water filter companies in the EU, AquaFilter.
Allow us to introduce to you the AquaFilter™ 3-Stage Hand Held Shower Filters:
As you can see these shower filters come in a variety of three different colours to suite any type of shower and they are produced right here in the Europe. If you have a more modern shower with darker coloured tiles or dark tap fittings which are so popular right now, one of these matt black shower filters would really suit your bathroom. Or maybe you have a more classical type shower with the standard chrome type shower fittings and fixtures, well one of the chrome coloured shower filters would suit your shower and bathroom to a tee. Though one colour which we do get a lot of requests for is a shower filter in white, for people who have bathrooms and showers with lighter coloured tiles and a predominantly white colour scheme.
Whether your bathroom has a modern matte black finish or a classical chrome finish, any one of these new AquaFilter 3 Stage Hand Held Shower Filter shower filters would look right at home and when you install one you know that you are getting the highest level of water filtration from a company that has been producing water filtration products for both home and industry for over 2 decades.
One of the huge benefits of these shower filters is that they incorporate the exact same propriety shower filter cartridge that AquaFilter have for all of their shower filters. So if you have an older model shower filter produced by AquaFilter, such as the Extra Large Head Hand Held Shower Filter or the Large Hand Held Shower Filter, then you can easily upgrade to this new type of shower filter without any worries about whether or not the cartridges you already have will fit, because this shower filter has been engineered to use the same shower filter cartridges.
Let's remind ourselves of the amazing benefits and qualities of the shower filter cartridges:
Unique 3 stage combination of KDF-55 and Ceramic Ball Water Filter Technology
FIR Ceramic Balls

Our Far-infrared Mineral Ceramic Balls combine the health benefits of far-infrared molecules with the amazing filtering properties of ceramic. They filter out nasties including the removal of leads, chromium and other heavy metals and help to make water feel softer. They act to kill bacteria and absorb impurities in water supplies.

Zeolite Stone Balls

Zeolite has been known for centuries to provide amazing water filtering properties. It can effectively remove heavy metals and help to soften water by removing calcium and magnesium ions.

NSF Certified KDF-55®

NSF Certified KDF-55 filter medium is gold standard when it comes to water filter mediums. It is Certified and listed under the NSF STANDARD 42 for Drinking Water Treatment Units - Aesthetic Effects. Here are just some of the contaminants that KDF-55 removes: Chlorine, Bacteria & Fungi, Heavy Metals, Radon, Iron, Scale, etc.
So if you are in the market for a new shower filter from a top notch manufacturer and wanted something a little different than the other shower filters which are on the market right now, then we would highly recommend one of these three coloured AquaFilter 3 Stage Hand Held Shower Filters.