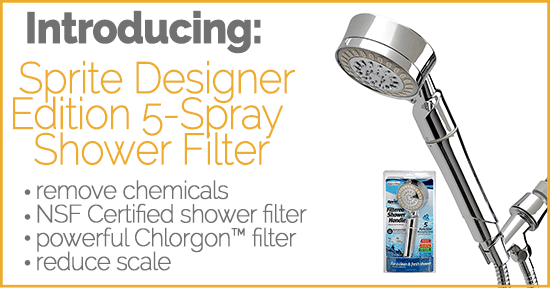 Continuing with our series of introducing you to the new Sprite Shower Filters that we are extremely excited to have added to our collection of shower filters. This week we wanted to present to you the Sprite Designer Edition 5 Spray Shower Filter
This Sprite shower filter differs from the Sprite Shower Pure 7 Spray Shower Filter in a few ways. Firstly as you can see from the name it has 5 spray settings, rather than the other shower filter which has 7 spray settings. Also the shower head face is a smaller size as well. If you look at the overall design the two shower filters are designed very differently as well - so depending upon the type of shower style you have will determine which type of shower filter you should buy.
Both shower filters use exactly the same type of cartridge, so you know it which ever shower filter you decide on it will give you the highest level of filtration and protection from impurities in water which Sprite is world renouwned for.
Sprite™ Industries has been making shower filters since 1987 and is one of the highest quality shower filter manufacturers in all of the world, that is why at PureShowers.co.uk we are excited to bring to our customers the Sprite Designer Edition 5 Spray Shower Filter.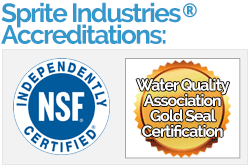 5 Massage Spray Options

Anti-scaling spray nozzles

No pressure drops

Removes free and combined chlorine

Reduces dirt, scale and odours

For softer hair and skin

NSF Certified Shower Filter

pH balanced

Cartridge can be backflushed

Made in the USA
NSF Tested & Certified, Patented Chlorgon Shower Filter Medium
NSF Certified Chlorgon™ Shower Filter Medium

Sprite created and patented a brand new filter medium called Chlorgon. This filter medium works on the principle of redux (which is similar to our other KDF-55 shower filters), which means as water passes through the cartridge inside the shower handle it turns harmful chemicals into benign substances. Chlorgon is made from a proprietary blend of Copper, Zinc and Calcium Sulphide which allows it to efficiently filter your shower water in hot or cold temperatures.

Chlorgon and this shower filter itself has been independently certified in laboratories by the NSF to the standard NSF/ANSI 177 Shower Filtration Systems, which means you know you can trust that this product is backed by science and research.

Recyclable Cartridges

Carefully poke a hole in the screen of the filter cartridge and empty the contents into garden soil. Place the filter cartridge in with recyclables.

Replacement Indicator

Easily see when you need to replace your shower filter cartridge. When the filter medium begins to darken this will indicate that the shower filter cartridge needs to be replaced. Usually this is after 3 months or around 11,350 litres (whichever comes first), but that can depend up on usage and also the quality of the water in your area.