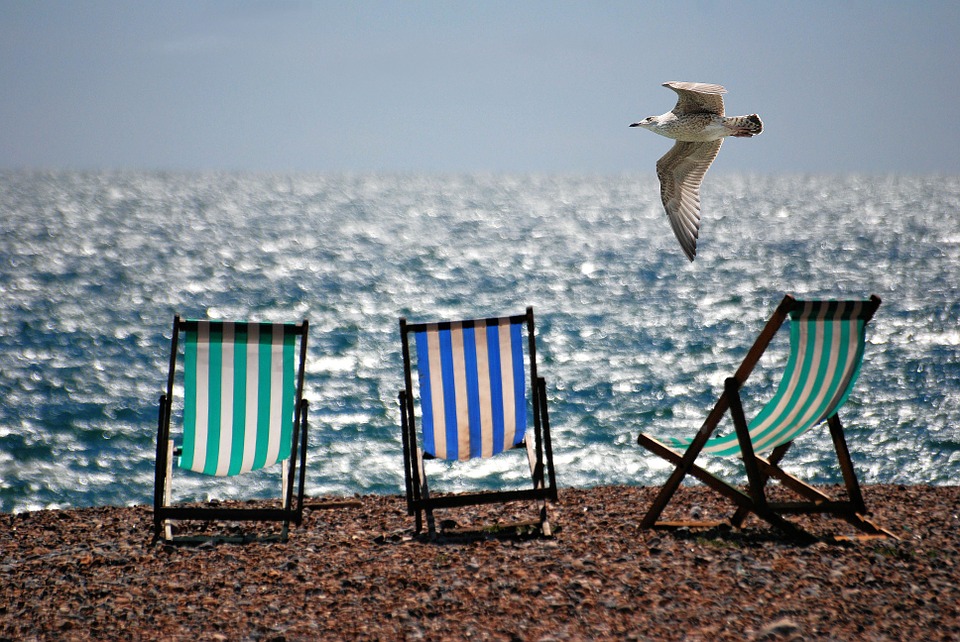 The time has come to cross our fingers and hope and pray that this year we will get a decent summer with lots of warm days and long nights, please no rain! Last summer in the UK we had an amazing summer because we had the opportunity to host the 2013 Olympic games. Not only was the weather great for the games, also everyone in the country really got together and behind team Britain which gave the whole country a fantastic feeling of togetherness and solidarity. This summer the special occasion is of course the birth of our future monarch, the baby of Prince William and Kate Middleton.
Weather wise what will Summer 2013 bring us? Well in a meeting of scientists at the MET office this June they predicted that we would be having gloomy and wet summers for another 10 years. This thinktank concluded that the UK could be in the middle of a 10-20 year "cycle" of wet summers. They have said that six out of seven of the last summers in the UK have seen below-average temperatures and sunshine, and above-average rainfall. Yet some good news is that the head of the MET office Hadley Centre (Stephen Belcher) has said that this is not a definitive long term forecast and does not mean that the UK will automatically have a decade of wet summers.
"Predicting when this cycle will end is hard," said Belcher, who led the meeting of 25 scientists. "We have seen similar patterns before – in the 1950s and the 1880s – and we have hints that we are coming towards the end of this current cycle. However, it might continue for the next five to 10 years. There is a higher probability of wet summers continuing. But it's very early days in trying to understand why this is happening."
Even with this gloomy prediction for our summer, let's try to stay positive and rely on the variable nature of the British summer - who knows? Scientists have been known to be wrong on many occasions, so stiff upper lip - let's hope for the best.
So with that positive thought in mind, we have come up with a new list of Top 5 Summer 2013 health tips to keep us healthy and happy.
Tip 1: Change Your Shower Filter Cartridge
Summer usually gets hot and sticky, so we tend to have more showers in summer. With more showers it means our shower filters are going to be working a lot harder for us. Therefore it is a great opportunity for us to change our shower filter cartridges. So that we ensure we are showering in the most pure and healthy water possible. Changing the cartridge is very easy and doesn't really cost that much at all. Also if we've changed cartridges in the recent couple of months, maybe we should consider back-flushing the cartridge (if it is possible for your model of shower filter) to rid the cartridge of sediment that might have trapped itself either inside the cartridge or around it. To do this, simply install the cartridges in each others' positions and run water through the shower filter for a few minutes. If your shower filter does not allow for back-flushing, then simply take the cartridge out and give it a good shake, holding it upside down under a running tap. This will give your filter cartridge some new life and effervescence.
Tip 2: You've heard it before, but we'll say it again : Apply sun screen!
Skin cancer is definitely not a joke and many of us Brits think that it never gets sunny enough to actually need to apply sunscreen, but we're wrong! During the summer there is a heightened amount of UV rays bombarding the earth and it is these UV rays that actually cause skin cancer. It does not matter if it is a cloudy day or if it is a really sunny day, during summer the heightened UV radiation can cause skin cancer. If you work out doors or spend a lot of time out doors, do take the added precaution of applying a good high factor sun screen on any exposed parts of your body.
For those of us who will be lucky enough to go to a hot and sunny place on holidays this summer, it really goes without saying not to forget to pack a sunscreen and use it on a daily basis. Especially as our skin may not be used to these sunny climates and will burn much faster and easier.
Tip 3: Going to a sea side resort? Mind those jellyfish!
If you're going to a sea side resort around the UK (or anywhere else in the world for that matter), do keep an eye out for those stinging jellyfish. Most jellyfish are harmless and do not sting, but there are a few which do, so they are best avoided altogether. In the UK jellyfish numbers are on the increase and they are responsible for the most amount of stings from animals in the sea. Some stinging jellyfish can be merely a little nuisance but others, like the lion's mane jellyfish can be extremely painful. Keep an eye out for weather reports and sea reports in the area that you are visiting and if the water is infested with jellyfish, keep safe and do not go swimming. If for whatever reason you are stung by a jellyfish the best thing to do is apply sea water or vinegar, contrary to popular urban legend it is not a good idea to urinate on a jellyfish sting!
Tip 4: Eat fresh seasonal summer vegetables for increased happiness!
Researchers at the University of Otago (NZ) have recently completed a study of 281 young adults for 21 days and concluded that there is a day-to-day relationship between those who reported a higher fruit and vegetable consumption and positive mood.
Dr. Conner who lead the study said, "On days when people ate more fruits and vegetables, they reported feeling calmer, happier and more energetic than they normally did".
So this summer is a great time for fresh seasonal vegetables. Some of our most loved and well eaten vegetables come into season during summer, also buying seasonal vegetables will keep costs down as well because with the higher supply of these veggies prices will go down. Why not choose these specific vegetables when planning your meals for your family: Corn, Cucumbers, Aubergine, Green beans, Sweet peppers and Tomatoes.
Tip 5: Summer make-up tips
With the added warmth during this season, it is best to stay well away from any foundations that are oil based. These will make your skin look shiny and oily and if you perspire they will stick to and stain any clothes they come into contact with. The best make-up tip for this summer is to go for an oil free foundation and then powder your face and neck with a shine free powder will help set the foundation throughout the day. For lip sticks, use something that has a good stay on life span and for mascara go for a waterproof mascara to ensure any perspiration does not smudge your great looking eyes.
One final note - if you have not yet installed a shower filter in your home, then this summer 2013 is the perfect opportunity for you to begin realising the great health benefits of shower filters. By removing chemicals, heavy metals, bacteria and all other types of nasties from your shower water. You will be showering in clear and pristine filtered water that is just so great for your skin, your hair and your overall health. Please go to our shower filters website at http://www.pureshowers.co.uk to read five star reviews from our customers and take a look at our great range of shower filters.
We hope you keep safe and happy this summer 2013!